About the Artist
I was born and raised in Denver Colorado. I consider myself a third generation artist. My grandfather was a painter, as well as a cartoon satirist. My father is an accomplished watercolor painter. Art has been an intricate part of my life. I cannot remember a time when I did not pursue art in some fashion. Drawing was something I always did as a child, and my love of drawing continues even today. In college, I studied printmaking and drawing. After college I parlayed my love for art into a successful career as an award winning graphic designer.
I began a more serious pursuit of fine art in 2003, studying with Denver based painter Betty Kirin. I studied for four years at the Denver Art Students League with nationally recognized painters Kevin Wechbach and Michelle Torrez. In 2011, my husband and I relocated our family to Central Ohio, where I continue to pursue painting. In Columbus, I have had the privilege to study with accomplished landscape painter and artist Michael McEwan. I have been involved in juried art shows in Colorado, Ohio, California, and South Carolina. My work can be seen at Sharon Weiss Gallery and 24 Lincoln Street Art Studios in the Short North Arts District in Columbus, Ohio. I am currently an Associate Member of Oil Painters of America.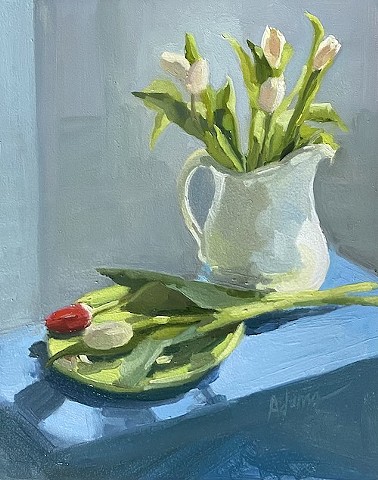 Often when I paint, I listen to podcasts. Recently, I heard Theologian Richard Rohr say in reference to spirituality and human nature, that you cannot see the light without the shadow. For me, this struck a chord on many levels. But as it relates to my pursuits as a painter, it embodies my approach. I want to paint the light, but without the shadows it is meaningless. And it is how the shadows are rendered that makes the light so beautiful to witness.