About the Artist
Amy Adams was born and raised in Denver Colorado. She considers herself a third generation artist. Her grandfather was a painter, as well as a cartoon satirist. Her father is an accomplished watercolor painter living in Lakewood Colorado. Art has been an intricate part of her life. She says, "I cannot remember a time when I did not pursue art in some fashion. Drawing was something I always did as a child, and my love of drawing continues even today."
In college, she studied printmaking and drawing at The University of Puget Sound in Tacoma Washington. After college she was able to parlay her love for art into a successful career as an award winning graphic designer and illustrator.
She began a more concentrated pursuit of fine art in 2003, when she began to study with Betty Kirin at Sugarstone Studios in Denver. Following that time, Adams enrolled in classes at the Denver Art Students League. She considers this as her most formative art education years. She studied with nationally recognized painters Kevin Wechbach and Michelle Torrez, both of whom influenced her greatly. In 2011, her family relocated to Central Ohio. In Columbus, her entry into the art scene was through her introduction and friendship with artist Michael McEwan, whose mentorship was invaluable. She met Sharon Weiss over six years ago, and Sharon Weiss has represented her work since. She has been involved in juried art shows in Colorado, Ohio, South Carolina, as well as California. In 2022, she was given the honor of being selected as the Artist in Residence for the New Albany Symphony 2022-23 concert season.
24 Lincoln Street Art Studios in the Short North Arts District began in 2019, as an extension of the Sharon Weiss Gallery family. She is honored to be a founding resident artist of 24 Lincoln. You can often find Amy painting in her upstairs studio, located in what she fondly calls "The Little Blue House next to Sharon Weiss Gallery."
Professional organizations:
Oil Painters of America (Associate Member)
American Impressionist Society (Associate Member)
Ohio Art League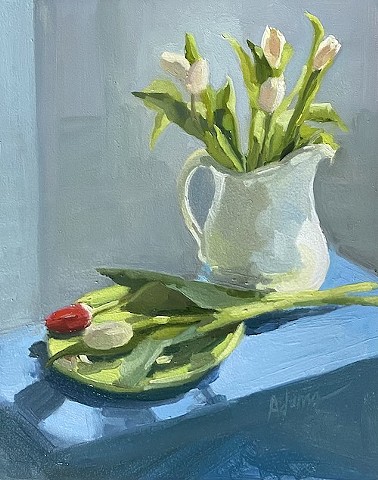 Often when I paint, I listen to podcasts. Recently, I heard Theologian Richard Rohr say in reference to spirituality and human nature, that you cannot see the light without the shadow. For me, this struck a chord on many levels. But as it relates to my pursuits as a painter, it embodies my approach. I want to paint the light, but without the shadows it is meaningless. And it is how the shadows are rendered that makes the light so beautiful to witness.
-Amy Adams